Own, train, breed and race your virtual stable of equine athletes in Sport Of Kings horse racing simulation game. Race your horses against friends or colleagues for fun, pride and bragging rights. Sport Of Kings offers a wide variety of difficulty levels with nearly unlimited depth to the game including breeding and realistic growth of horses!
Disclosure: This post may contain affiliate text or image links. We may earn a small commission if you choose to purchase a product after clicking on one of those links. We have no further material connection with any individual company or vendors whose products may be shown.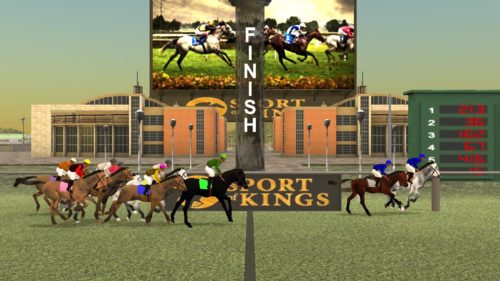 Subscription based, premium gameplay
This game utilises a slightly different payment model to other games. As is generally the norm with pay-to-play games, you can technically get started at SOK at no cost, setting up a stable using free horse vouchers. However, SOK is definitely designed to be a premium game and features real prize money and real money private and public auction horse sales. To enter races, you will need to choose one of many available subscription levels. What makes SOK different from other pay games is that there are no race entry fees. Players simply pay their monthly subscription fee and may then enter their horses as often as they like for a shot at claiming the purse. Some feature races will however require the purchase of a premium token.
Sport Of Kings is a relative newcomer among virtual horse racing simulation and stable management games but manages to deliver a level of sophistication and detailed game play never seen anywhere before. Get your stable started with some free horses and then upgrade to unlock more features. Build and grow your stable of horses and try to produce the next Triple Crown winner. At Sport Of Kings, you can develop your own bloodlines through selective breeding or attempt to spot a future star at a bargain-basement price in the auction room.
At Sport Of Kings, you have the horse racing world laid out before you, ready for you to conquer with all the tools you will need at your disposal. Train your horse and assess its suitability to a variety of ground conditions and race distances. Trade horses with other owners, either through private negotiated sales or via the auctions. Breed your horses, using your own stallions and mares or those of other players. Enter your horses strategically to maximize your chances of winning the best possible dividends. Lead your horses to glory at all levels from claiming races to championship events.
Getting started with 3 free horses
Sign up today to take advantage of an introductory special offer. Register with us and you will be allocated with 3 horse vouchers. You can use these vouchers to purchase up to 3 free horses from the Sport Of Kings sales ring. Use these free horses to play for free and learn the game or as a head start on building an elite, competitive stable. The choice is entirely yours.
More Questions? Here at HorseRacingBuzz.net, we aim to provide ongoing support to those who have joined a virtual horse racing community through our website. Use our contact form to get in touch and ask any questions you may have.